Go to URL www.IntoMusic.co.uk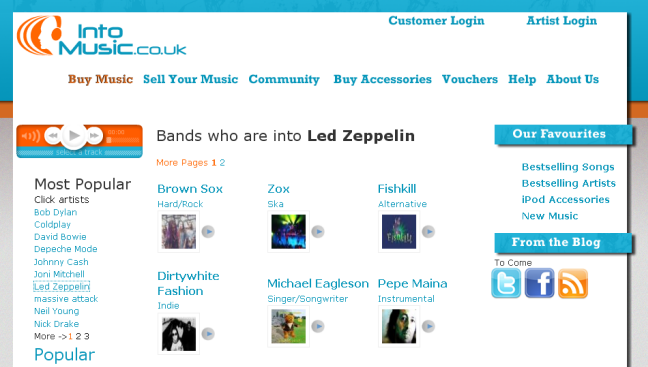 A music e-commerce site. This site enables musicians to register their details and upload their music and pictures. They can then edit these details via their own admin area. Customers can then preview music and purchase tracks, the customers payment goes immediatly to the artist utilising paypal micropayment rates, whilst intomusic handles the instant delivery of the music to customer.

The artists pay an affordable monthly fee to intomusic for this service. Previously intomusic.co.uk experimented with a number of different business models, including pre-paid credits which could be redemmed against downloads, mainly to offset high credit card costs at the time. Also monthly subscription plans for customers and single track payments. A number of different gateways have been used including SagePay and Worldpay. Built with PHP, AJAX, CSS, MySQL. Extra features Music widgets and vouchers.